No results were found for the filter!
Lagrein Abtei Südtirol DOC 2019 - Abtei Muri-Gries
0.75 liter(s)
(21.20€ * / 1 liter(s))
Weißburgunder Südtirol DOC 2018 - Abtei Muri-Gries
0.75 liter(s)
(17.31€ * / 1 liter(s))
Since 1788, when the old Gothic monastery church moved to the newly built Baroque church, the wines of Muri-Gries have been stored in the walls of the former Augustinian canons.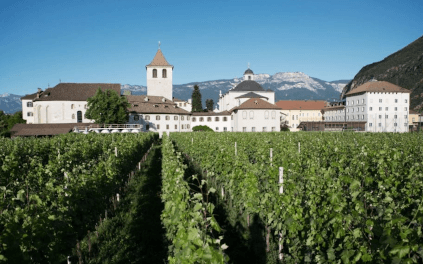 The winery of the Abtei Muri-Gries
In the middle of the monastery complex, tradition is lived. For centuries, everything at Muri-Gries has revolved around wine. Modern cellar technology is harmoniously integrated into the old monastery walls. In the old collegiate church is the fermentation cellar, the so-called "Ansetz", as well as the stainless steel barrels for storage.
In the wine cellar of Muri-Gries Winery
In the old cellar of the 13th century castle complex, the large wooden barrels and the barriques with red and white wine are stored. Gentle processing methods, traditional working methods with simultaneous use of modern cellar technology - but with conscious renunciation of many finesses of the same - are only some of the basic principles of the cellar philosophy of Muri-Gries.
Going together
Christian Werth, is since 1988 with body and soul oenologist in the monastery cellar. For him his work is both hobby and passion. The monastery community is open-minded about his committed path between tradition and innovation. "Every vintage is a new, great challenge for me", Christian Werth is pleased to say. "For the oenologist (cellar master), the most beautiful and exciting experience of the year is always the tasting and the first sip of the new, young wine. It is so fascinating what nature produces each year in convincing quality and new surprises".
The grape varieties
Typical for South Tyrol, the Abtei Muri-Gries vinifies wines from:
More information about Abtei Muri-Gries
Address
Company Name:
MURI-GRIES WEINGUT
Street:
Grieser Platz 21
City:
39100 Bolzano
Country:
Italy
Region:
Trentino-Alto Adige
Continent:
Europe
Contact & Web
Website:
http://www.muri-gries.com/de/klosterkellerei
E-mail:
[email protected]
Facebook:
https://www.facebook.com/CantinaMuriGries
Telephone:
+39 0471 282287
Fax:
+39 0471 273448
Wine
Oenologist:
Christian Werth
Cellarmaster:
Christian Werth