No results were found for the filter!
Rioja Alta is lined with countless bodegas that have made their home on and around the Ebro River, but hardly any can look back on such a long success story as Bodegas Montecillo.
Bodegas Montecillo - exquisite red wines from the Rioja wine region
Founded in 1870, the winery near Fuenmayor, the old wine town not far from the Ebro, relies on the fusion of traditional viticulture and modern cellar facilities. The very late hand-harvesting of ripe grapes by hand ensures a perfect balance of fruit, acidity and aroma. The result is the typical wines in the classic modern Montecillo style.
From a small bodega to a renowned top winery
Bodegas Montecillo, the wine cellar on the small mountain, has been farsightedly managed since its foundation by Celestino Navajas Mature. His son learnt the craft in Bordeaux, which immediately led to the cultivation of the local typical Tempranillo grape variety. Even years later, under the leadership of José Luis Navajas, the innovations in the vineyard and cellar did not stop. In 1973, when the renowned Osborne family took over, the Bodegas Montecillo was transformed into a new form. Major investments in new facilities and modern technology were the result of the founders' original desire to establish the wine that is symbolic of Rioja internationally, but not to close their eyes to the future. Personalities like Marie Martinez, Rocío Osborne and vintner Mercedes García Ruperez ensured that there would be no standstill.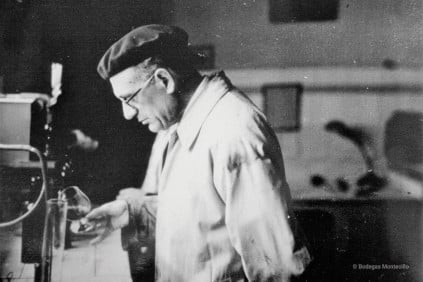 Bodegas Montecillo wines at a glance
Montecillo Gran Reserva Rioja DOCa: Wine made from 35 year old vines, aged 28 months in wooden barrels and 4 years in the bottle, ruby red, aromas of oak, cinnamon, candied fruit, ideal with fish and white meat, as well as a solo pleasure.
Crianza DOCa: authentic Rioja wine, perfectly balanced between 85% Trempanillo and 15% Garnacha, powerful red colour with violet reflections, red fruits dominating in the nose, cherry and sweet pastry, excellent tannin structure from beginning to end, goes well with Mediterranean dishes à la tapas as well as low-fat dishes.
Montecillo Reserva DOCa: typical Rioja wine with intense aromas and finesse, aged 24 months in wood and 16 months in bottle, cherry colour, bouquet of ripe fruit and oak with hints of sweet aniseed, elegant tannins, perfect for grilling, hearty stews and spicy dishes.
Montecillo Gran Reserva Selección Especial Rioja DOCa: an excellent Rioja wine as it is rarely pressed, from exceptional harvest, pure Tempranillo, double fermentation, 3 years matured in French oak barrels, 10 years matured in the bottle, dark red and powerful body with intense aromas of ripe fruit, some balsamic, blackberry and liquorice, suitable for all kinds of meat, decanting essential.
Viticulture at Bodegas Montecillo
Today, as in the past, Bodegas Montecillo's cultivation is concentrated on old vines which, although they produce less yield, give the wines a strong character. The vineyards are situated at up to 800 metres above sea level and are exposed to cool winds. As a result, the grape varieties pass through a slow ripening phase, which creates intense acidity, fruit and aromas. After the best grapes have been selected, the harvest is transported to the estate's own cellar. The must from the gently pressed mash ferments in different tanks, so that a complex interplay is created in the wine. The cellar master Mercedes García Ruperez has conventional stainless steel tanks and Ganimede tanks at her disposal. The latter are ideal for a rich extraction of colour and fermentation substances and the separation of the fine tannins of the grape skin and the harder tannins of the grape seeds.
List of grape varieties at Bodegas Montecillo
Tempranillo
Graciano
Garnacha
Mazuelo
Viura
Tempranillo Blanco
Sauvignon Blanc
Albraiño
Verdejo

Finally, the complex and powerful red wines mature in one of the 20,000 French or American oak barrels to achieve their perfection. Bodegas Montecillo has many ways of making wine, but the result is always a high quality, cask aged Rioja wine from Fuenmayor, combining tradition and modernity.
More information about Bodegas Montecillo
Address
Company Name:
Bodegas Montecillo SA
Street:
Ctra. Fuenmayor Km. 3
City:
26370 Navarrete
Country:
Spain
Region:
Rioja
Continent:
Europe
Contact & Web
Website:
http://www.bodegasmontecillo.com/en/
E-mail:
[email protected]
Telephone:
+34 941 100 306
Company
Year of Incorporation:
1874
Company Group:
Bodegas Montecillo SA
Company Owner:
Familie Osborne