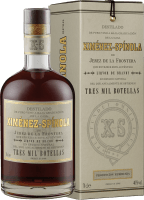 Any questions about this product?
Ready to ship today, delivery time appr. 1-2 workdays
Brandy 3.000 botellas D.O. - Ximénez-Spinola
Im blitzblanken Glas offeriert der spanische Brandy 3.000 botellas D.O. aus den Produktionsstätten von Ximénez-Spinola seine sortentypische Farbgebung. Der Stilvolle Brandy zeigt beim Hineinschnuppern ausdrucksstarke Eindrücke von Nuss, Trauben und Rosinen.
Cocktail oder nicht - so können Sie den Brandy 3.000 botellas D.O. genießen
Ximénez-Spinola hat hier einen großartigen Brandy 3.000 botellas D.O. produziert, der sich u.a. als Basis für einen Sidecar, Old Fashioned oder Touch down bestens eignet. Doch auch pur ist er einfach nur hervorragend.
Residual sugar in g/l:
8,6
Sub region:
Jerez DO (ES)
Aromas & Palate Notes:
dried apricot , Vanilla
Mouthfeel/ Texture:
velvety
Glass Recommendation:
Sherryglas / Nosingglas, Cognacschwenker
Occasion & Theme:
surprise connoisseurs
Distributor:
Ximénez-Spinola - Jerez-Sanlucar desvio Km. 1 -5 Las Tablas - 11408 Jerez de la Frontera - Cádiz - Spanien
Allergens and ingredients:
Contains Sulphites and Sulphur Dioxide
Write a review
Reviews will be published after verification.