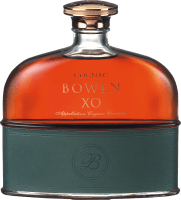 Any questions about this product?
Available from (approx.) 19 April 2023
Cognac XO in GP - Cognac Bowen
Im blitzblanken Glas offenbart der französische Cognac XO in GP von Cognac Bowen seine betörende Farbgebung. Dieser besondere Cognac zeigt beim Hineinschnuppern ausgeprägte Nuancen von Trockenfrucht, Nuss und Pfeffer.
Cocktail oder nicht - so können Sie den Cognac XO in GP genießen
Wir empfehlen Ihnen den Genuss des Cognac XO in GP entweder pur oder in einem gut polierten Cocktailglas als Cognac Caipi, Rolls Royce oder French Connection.
Residual sugar in g/l:
19
Duration of maturation (in Months):
228
Aromas & Palate Notes:
Acacia , Applesauce , Peach , dried apricot , Vanilla
Mouthfeel/ Texture:
velvety , dense
Optimal serving temperature in °C:
15 - 18
Glass Recommendation:
Sherryglas / Nosingglas
Occasion & Theme:
gift for good friends , Fireplace evening , romantic dinner , Christmas
Bottle Design & Features:
classic
Distributor:
Cognac Bowen - 51 Rue Elysee Loustalot - 17412 St.Jean d'Angely - Frankreich
Write a review
Reviews will be published after verification.