No results were found for the filter!
The Martins describe their Creation Wines estate as their "little piece of paradise". On the Hemel-en-Aarde ridge, they have built a young winery that goes hand in hand with nature and produces excellent wines in return.
A new land for wine - Creation Wines
The year is 2002, when Jean-Claude and Carolyn Martin decide to set up a winery in a remote corner of Walker Bay. No wine has ever been planted here before and the two saw this as a challenge to create a unique model winery. Jean-Claude and Carolyn combine their Swiss and South African roots, both families having been involved in winemaking for a long time, to create something special.
Best conditions for the best wine
The vines of the estate grow on the slope of the Babylon Gates Mountain. The sunny slopes, cool winds from the Atlantic Ocean and clay soils offer the best conditions for the grapes. The temperature rarely exceeds 30°C, so they do not have to endure heat. The grape varieties grown are:
white: Sauvignon Blanc, Semillon, Chenin Blanc, Viognier, Chardonnay
red: Grenache, Pinot Noir, Merlot, Cabernet Sauvignon, Petit Verdot, Syrah
The cellar, which was built in 2007, offers state-of-the-art technology such as pneumatic immersion systems for the mash, stainless steel tanks and temperature controls. The estate's red wines are aged exclusively in French barriques.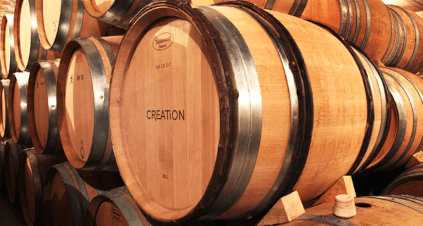 Commitment at Creation Wines
In keeping with its model function, CreationWines has joined the Biodiversity & Wine Initiative to promote nature conservation and sustainability programmes in winegrowing. Furthermore, the estate has been awarded the green seal of Integrated Production of Wine and has received EnviroWines accreditation, which only nine wineries in South Africa own so far.
Creation Wines is involved in several charitable causes, such as schools and cancer research. Many of the company's own fundraising campaigns have already been carried out or, for example, it has supported the Rotary Clubs in the area.
More information about Creation Wines
Address
Company Name:
Creation
Street:
Hemel en Aarde Road PO Box 1772
City:
7200 Hermanus
Country:
South Africa
Region:
Western Cape
Continent:
Africa
Contact & Web
Website:
https://www.creationwines.com/
E-mail:
[email protected]
Facebook:
https://www.facebook.com/creationwines
Twitter:
https://twitter.com/creationwines
Telephone:
+27 28 212 1107
Fax:
+27 28 212 1127