No results were found for the filter!
Founded in 1991 by Emil and Sonette den Dulk, De Toren Winery is located in the Western Cape Province of South Africa, not far from the town of Stellenbosch.
De Toren Winery - "There is no shortcut to perfection"
Its land area of initially 7 hectares was extended by 17 hectares two years after its foundation. Since then Emil and Sonette have been growing the Bordeaux varieties
Cabernet Sauvignon
Merlot
Cabernet Franc
Malbec and
Petit Verdot on.
Quality instead of quantity
The low yield does not harm the reputation of the winery. On the contrary: although it would take De Toren around 15 years to produce the amount of wine that major wine producers produce in a day, the result is an absolute quality product and testifies to the passion and perfection that the owners put into their work.
Wines of strong character from De Toren
Elegant, rich in nuances and silky smooth - this is how the wines that are created here are described. And the first-class character of the wines is no accident. All grapes ripened on the estate located in the Polkadraai Hills are harvested by hand in the first two hours after sun exposure and then checked for 23 criteria. Only when they meet these criteria may they be used for De Toren's wines. The result is, for example, De Toren "Fusion V", which was first presented to the wine market in 1999 and was voted the best Bordeaux in South Africa in 2016.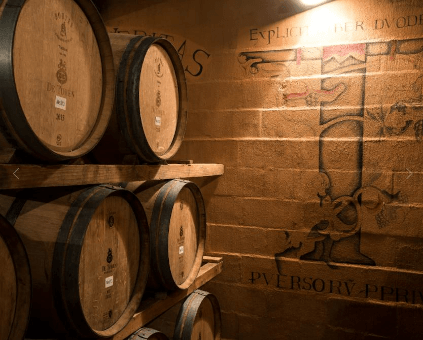 More information about De Toren Private Cellar
Address
Company Name:
De Toren Private Cellar
Street:
Polkadraai Road
City:
7604 Stellenbosch
Country:
South Africa
Region:
Westkap
Continent:
Africa
Contact & Web
Website:
https://de-toren.com/
E-mail:
[email protected]
Facebook:
https://www.facebook.com/DeTorenPrivateCellar/
Telephone:
+27 21 881 3119
Company
Year of Incorporation:
1991
Company Owner:
Emil und Sonette Den Dulk
Wine
Oenologist:
Albie Koch
Cellarmaster:
Charles Williams
Vineyard Area:
24 ha