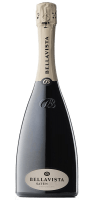 Any questions about this product?
Delivery time approx 2-4 workdays
Vendemmia Satèn Brut Franciacorta DOCG 2017 - Bellavista
Der Vendemmia Satèn Brut Franciacorta aus der Feder von Bellavista aus der Lombardei offeriert im Weinglas eine brillante, goldgelbe Farbe. Die Perlung dieses Spumante präsentiert sich im Glas ungemein fein, elegant und lang anhaltend. Im Zentrum zeigt dieser Spumante eine lebendige Farbe. Nach dem ersten Schwenken, zeichnet sich dieser Spumante durch eine herrliche Leichtigkeit aus, die ihn schwungvoll im Glas tanzen lässt. Im Glas zeigt dieser Spumante von Bellavista Aromen von Jasmine, Pink Grapefruit, Zitronengräser, Limetten und Akazien, ergänzt um Vollnuss-Schokolade, Krokant und gebrannte Mandel. Dieser trockene Spumante von Bellavista ist etwas für Weingenießer, die ihren Wein gerne trocken trinken. Auf der Zunge zeichnet sich dieser leichtfüßige Spumante durch eine ungemein cremige Textur aus. Im Abgang begeistert dieser lagerfähige Spumante aus der Weinbauregion Lombardei schließlich mit beachtlicher Länge. Erneut zeigen sich wieder Anklänge an Grapefruit und Zitronengras.
Vinifikation des Vendemmia Satèn Brut Franciacorta von Bellavista
Dieser Spumante legt den Fokus klar auf eine Rebsorte, und zwar auf Chardonnay. Für diesen wunderbar eleganten sortenreinen Wein von Bellavista wurde nur erstklassiges Lesegut eingebracht. Der Vendemmia Satèn Brut Franciacorta ist ein Alte Welt-Wein durch und durch, denn dieser Italiener versprüht einen außergewöhnlichen europäischen Charme, der ganz klar den Erfolg von Weinen aus der Alten Welt unterstreicht. Wenn die perfekte physiologische Reife sichergestellt ist werden die Trauben für den Vendemmia Satèn Brut Franciacorta ohne die Hilfe grober und wenig selektiver Traubenvollernter ausschließlich händisch geernet. Nach der Lese werden die Weintrauben auf schnellstem Wege ins Presshaus gebracht. Hier werden sie sortiert und behutsam gemahlen. Anschließend erfolgt die Gärung der Grundweine. Nach der Zusammenstellung der Cuvée folgt der weitere Ausbau auf Basis der klassischen Flaschengärung. Im Anschluss reift der Bellavista Vendemmia Satèn Brut Franciacorta für einige Monate in der Flasche und wird schließlich degorgiert.
Speiseempfehlung zum Bellavista Vendemmia Satèn Brut Franciacorta
Dieser Spumante aus Italien sollte am besten gut gekühlt bei 8 - 10°C genossen werden. Er eignet sich perfekt als begleitender Wein zu Spaghetti mit Joghurt-Minz-Pesto, Gemüsesalat mit roter Beete oder gebratene Forelle mit Ingwer-Birne.
Auszeichnungen für den Vendemmia Satèn Brut Franciacorta von Bellavista
Dieser Wein aus Franciacorta DOCG überzeugt nicht nur uns, nein auch namhafte Wein-Journalisten prämierten ihn mit 90 Punkten und mehr. Unter den Bewertungen finden sich
Wine Enthusiast - 91 Punkte
Type of Wine:
Sparkling Wine
Occasion & Theme:
gift for good friends , wedding , romantic dinner , New Year's Eve , Valentine's Day
Sub region:
Franciacorta DOCG (IT)
Ageing:
small barrel , bottle fermentation
Maturation:
bottle fermentation
Duration of maturation (in Months):
60
Quality Classification & Rating:
DOCG Denominazione di Origine Controllata e Garantita
Awards:
Wine Enthusiast - 91 Points
Harvest Method:
Handpicked
Aromas & Palate Notes:
Acacia , Caramel , Walnut , Lemon
Mouthfeel/ Texture:
creamy
Style:
Old World , classic , elegant
Optimal serving temperature in °C:
8 - 10
Food Pairing:
Light dishes
Glass Recommendation:
Schaumweinglas
Bottle Design & Features:
classic , modern
Allergens and ingredients:
Contains Sulphites and Sulphur Dioxide
Distributor:
Cantina Bellavista - Via Bellavista 5 - 25030 Erbusco BS - Italien
Write a review
Reviews will be published after verification.