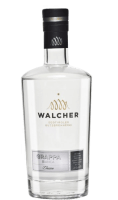 Any questions about this product?
Ready to ship today, delivery time appr. 1-2 workdays
Grappa Bianca Classica - Walcher
Aus dem Hause Walcher aus Italien kommt mit diesem Grappa Bianca Classica ein reiner Grappa ins blitzblanke Glas und betört auf Anhieb das den Blick geneigter Spirituosenliebhaber*innen mit glasklarer Farbe. Mit ansprechenden Nuancen von Frucht, Würze und Trauben becirct der italienische Grappa die Nase des Genießers auf Anhieb.
Servierempfehlung für den Grappa Bianca Classica von Walcher
Genießen Sie den Grappa Bianca Classica aus dem Hause Walcher zum Beispiel als Grapemint, Grappa Sour oder Graver. Oder aber unverfälscht und wohltemperiert einfach pur.
Aromas & Palate Notes:
würzige Noten , ripe apple , Vanilla , Almond
Glass Recommendation:
Sherryglas / Nosingglas
Occasion & Theme:
family event , typical national evening , party
Distributor:
Gutsbrennerei Destillerie Alfons Walcher - Pillhofstrasse 99 - 39057 Frangart - Italien
Write a review
Reviews will be published after verification.