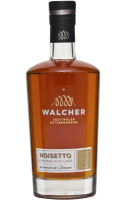 Buy 12, save 4%!
If you buy 12 of the products of this action, you will receive a discount of 4% .
This action runs until 31.12.2030 23:59.
Ready to ship today, delivery time appr. 1-2 workdays
Noisetto - Walcher
More information
Vom Hersteller Walcher aus Italien fließt mit diesem Noisetto ein vielversprechender Likör ins kristallklare Glas und begeistert auf Anhieb das den Blick geneigter Spirituosenliebhaber*innen mit typischer Farbe. .
Servierempfehlung für den Noisetto von Walcher
PROFILE
Style:
Old World , Cool Climate Winegrowing Region , complex
Aroma:
Walnut , Chocolate , Nüsse
Mouthfeel/ Texture:
silky , dense
Suitable wine glas:
Sherryglas / Nosingglas, Likörschale
Occasion and theme:
family event , typical national evening , party
Distributor:
Gutsbrennerei Destillerie Alfons Walcher - Pillhofstrasse 99 - 39057 Frangart - Italien