No results were found for the filter!
Azagador Reserva DO La Mancha 2014 - Pago de la Jaraba
0.75 liter(s)
(11.87€ * / 1 liter(s))
Azagador Crianza DO 2016 - Pago de la Jaraba
0.75 liter(s)
(9.67€ * / 1 liter(s))
The winery Pago de la Jaraba is unique in terms of both history and product variety.
Convincing overall concept at Pago de la Jaraba
Not far from the village of Villarobledo in the La Mancha region, the winery was founded in the 21st century. The name'Jaraba' is predominantly derived from Arabic and means 'rich in water or drinks', and thus, of course, fits perfectly to the profession of the winery.
Not only the wine tastes good at Pago de la Jaraba
After the winery Pago de la Jaraba got a new owner, it was fundamentally restructured and the estate was also divided into different production areas. Today Javier Pons holds the leading position. With him, a kind of holistic agriculture was practically implemented. In addition to the winery, Jaraba also cultivates olive trees with an attached oil mill and runs a cattle farm with its own cheese dairy. So, the Pago de la Jaraba wine estate does not only provide excellent pleasure on the wine level.
Sun spoiled in airy heights
Let's get back to the wine. Here the winegrowers benefit from the regional climate, which is spoiled with many hours of sunshine, as well as from the dolinic soil. It was formed during the Neogene period and is characterized by a loamy-sandy top layer. The altitude of the vineyards is also unusual. The vines thrive here at an altitude of 700 to 750 metres. These factors ensure ideal growing conditions for the grapes.
What and how is cultivated at Pago de la Jaraba?
Pago de la Jaraba mainly relies on the country's typical top variety Tempranillo. However, Cabernet Sauvignon, Merlot and Graciano are also cultivated on the approximately 80 hectares. The winery relies on traditional cultivation. This means that old methods typical for the region are applied. Among other things, restrictive pruning, careful thinning out and green harvesting are carried out. When fertilizing, the winery likes to do without artificial additives and profits in this context from the sheep manure of its own livestock.
Here again the grape varieties listed for you
Tempranillo
Merlot
Cabernet Sauvignon
Graciano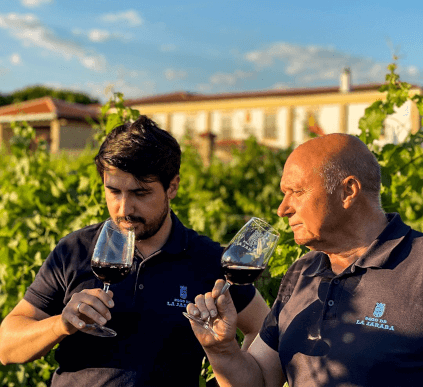 The products are export hits
The success of the Pago de la Jaraba team shows that they are doing their job properly. Today the products, especially the wines of Pago de la Jaraba, are exported to no less than 30 countries. The wines know how to convince with a pleasant body and offer an intense variety of aromas. Wines from Jaraba are also known for their elegant overall character. This Spanish winery from the La Mancha region has thus enriched the world of enjoyment without question by its unusual overall concept.
More information about Pago de la Jaraba
Address
Company Name:
Pago de la Jaraba
Street:
Crta. Nacional 310
City:
02600 Villarrobledo (Albacete)
Country:
Spain
Region:
Castile-La Mancha
Continent:
Europe
Contact & Web
Website:
https://www.lajaraba.com/
E-mail:
[email protected]
Facebook:
https://www.facebook.com/fincalajaraba/
Twitter:
https://twitter.com/Finca_La_Jaraba
Telephone:
(+34) 967 138 250
Fax:
(+34) 967 138 252
Company
Managing Director:
Javier Pons
Wine
Vineyard Area:
80 ha