No results were found for the filter!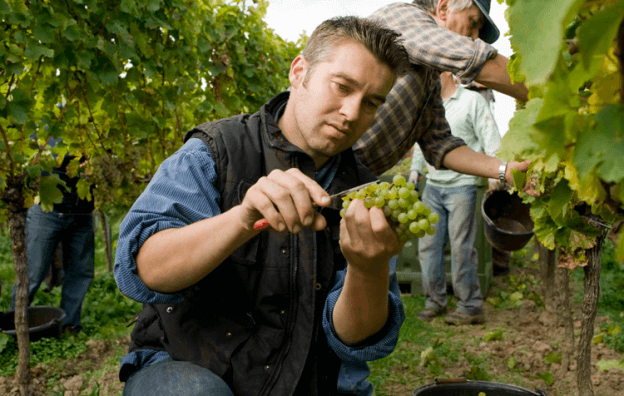 Philipp Kuhn - Your own handwriting
50% of the vineyards of the Kuhn winery are planted with red grape varieties. The emphasis is on Pinot Noir, complemented by grape varieties such as early Burgundy, St. Laurent, Merlot and Cabernet Sauvignon. Phillip Kuhn's red wines are vinified according to traditional methods. The grapes are harvested by hand, sometimes in several rounds from the beginning of October to November. This is the only way to achieve optimum ripeness and healthy berries at the same time. These are separated from their stems and fermented over a period of several weeks by classical mash fermentation. All red wines are also stored in wooden barrels. Secondary wines ripen in large wooden barrels or in old barriques, the top qualities in younger or new barriques. The storage period is between 16 and 20 months.
50% of the estate's vineyards are planted with white vines. The emphasis is on Riesling and the white Burgundy varieties, complemented by grape varieties such as Gewürztraminer, Sauvignon Blanc and Viognier. The Kuhns white wines are aged mainly reductively in stainless steel or old wooden barrels. All grapes are also harvested by hand. After the berries have been removed from the stems, a variable maceration time is carried out, depending on the quality and type of wine. Without pumping, they are then brought onto the pneumatic press by means of pure drop pressure and pressed very gently. The musts are fermented gently at fermentation temperatures below 20°C, partly spontaneously and partly with pure yeast. This ensures a fine varietal aroma, a powerful body and a very good shelf life.
50% red + 50% white = 100% Philipp Kuhn
More information about Philipp Kuhn
Address
Company Name:
Weingut Philipp Kuhn
Street:
Großkarlbacher Str. 20
City:
67229 Laumersheim
Country:
Germany
Region:
Pfalz
Continent:
Europe
Contact & Web
Website:
http://www.weingut-philipp-kuhn.de/
E-mail:
[email protected]
Telephone:
+ 49 6238 - 656
Fax:
+49 6238 - 4602
Company
Company Owner:
Phillip Kuhn
Wine
Cellarmaster:
Phillip Kuhn
Vineyard Area:
25 ha
Cultivated Area:
Pfalz
Cultivated Vineyards:
Laumersheimer Kirschgarten, Laumersheimer Steinbuckel, Großkarlbacher Burgweg, Laumersheimer Kapellenberg, Laumersheimer Mandelberg
Soil Type, Soil Characteristics:
Loess, limestone rock, marl with black earth, pebble, sand, loess clay
Annual Wine Production in hl:
1.425