No results were found for the filter!
Winery Simonsig from Stellenbosch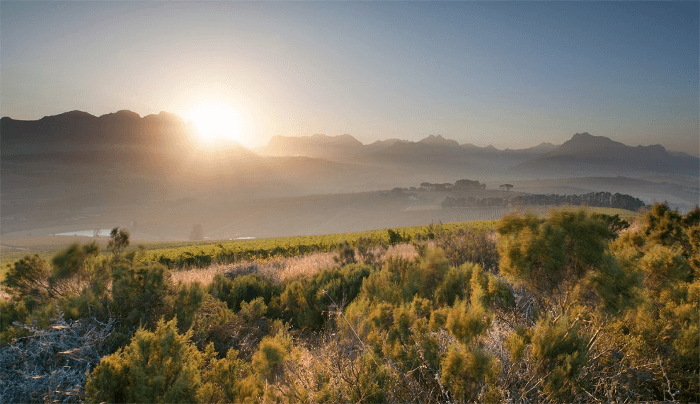 Stellenbosch, located 50 km east of Cape Town, is today considered the capital of winegrowing in South Africa. The slopes of the Helderberg and Simonsberg are the most sought-after locations for growing wine. With its granite and sandstone weathered soils they form the perfect basis for wine production. Warm summers and cold winters and the "Cape Doctor" wind also have a very positive effect on the ripening process of the grapes.
Grape variety mirror in South Africa
Important red grape varieties are above all Cabernet Sauvignon, Shiraz, Merlot and the autochthonous grape variety Pinotage. In addition to these:
Cinsault
Ruby Cabernet
Cabernet Franc
Pinot Noir
Malbec
The most important grape variety in South Africa, however, is white and accounts for almost 20% of the total area under vines. Chenin Blanc is also called Steen in South Africa. Other important white varieties are:
Sultana (a table grape which is also used in wine growing)
Colombard
Sauvignon Blanc
Chardonnay
Sémillon
Cape Riesling
Viognier
French winegrowing tradition in the Cape
The Simonsig Wine Estate is strongly linked to the history of winegrowing in South Africa. The roots of the estate go back to 1688, when Jacques Malan, a Huguenot from Southern France, arrived at the Cape and co-founded the South African wine industry. Finally, in the 1950s, Frans Malan founded his Simonsig winery at the foot of the Simonsberg ("Simons view").
Frans Malan was the first winemaker in South Africa to plant Chardonnay and in 1971 produced the country's first "champagne" (Kaapse Vonkel) using the Champenoise method and is one of the reasons for the Stellenbosch Wineroute. Quite early on he also began to make new blends of Pinotage and international grape varieties.
In the meantime, the 210-hectare Simonsig Winery is managed by his three sons and is thus one of the most famous and most awarded wineries in the Cape. In the last 10 years, no one has won more medals at the most important national tasting competition Veritas than Simonsig.
Debbie Thompson, oenologist from Namibia, has been making a decisive contribution to this for several years. Thanks to the knowledge and inspiration of her mentor Johann Malan, she was awarded the title "Woman Winemaker of the year" in 2005.
More information about Simonsig
Address
Company Name:
Simonsig Wine Estate
Street:
Kromme Rhee Road, Stellenbosch District
City:
7605 Koelenhof
Country:
South Africa
Region:
Stellenbosch
Continent:
Africa
Contact & Web
Website:
http://www.simonsig.co.za/
E-mail:
[email protected]
Facebook:
https://www.facebook.com/SimonsigWines
Telephone:
+27 21 888 4900
Company
Year of Incorporation:
1968
Company Group:
Simonsig Wine Estate
Company Owner:
Malan family
Wine
Cultivated Area:
Stellenbosch