Art de Laguiole Pilzmesser im Nylonetui
Dieses Klappmesser mit der geschwungenen Edelstahlklinge und einer Wildschweinhaarbürste zur Pilzreinigung ist das perfekte Geschenk für leidenschaftliche Pilzsammler. Das elegante und praktische Art de Laguiole Pilzmesser besitzt...
Content
0.25 liter(s)
(

€46.36

/ 1 liter(s))
Art de Laguiole Brotmesser
Das Art de Laguiole Brotmesser ist ein original Markenprodukt, bei dem Griff und Klinge aus rostfreiem Edelstahl bestehen. Es ist mit einer kleinen Biene, dem charakteristischen Erkennungszeichen, versehen. Dieses Zeichen ist das...
Tea Tube XL - Leopold Vienna
Die Tea Tube Xl von Leopold Vienna aus rostfreiem Edelstahl gefertigt und bietet mannigfaltige Einsatzmöglichkeiten. In erster Linie konzipiert als Permanent-Teefilter für Teekannen, ist das Anwendungsspektrum bedeutend breiter. Ob zum...
Vacu Vin Stößel und Mörser
A mortar is a beautiful kitchen tool, which can often be used as part of a herb and spice-rich cuisine. With the Vacu Vin pestle and mortar, you can crush herbs and nuts, grind spices, mix different ingredients and perfect with the...
Vacu Vin Pizzaschneider
The Vacu Vin pizza cutter not only cuts pizza quickly and safely, but also herbs, vegetables and meat.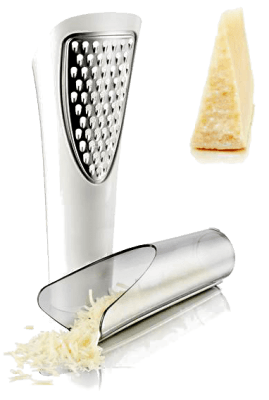 Vacu Vin Käsereibe
The Vacu Vin Cheese Grater is straightforward to use and has a very handy feature: Add a removable container, the grated cheese is collected and then simply portioned. With their rugged rough surface the Vacu Vin Cheese Grater is best...
Vacu Vin Snackmarkierer Weihnachten 8er Set
With the Vacu Vin Snack Markers Christmas Crowd bring catchy and fun splash of color on Christmas table and festive buffet. The wintry or Christmas symbols of the Vacu Vin Snackmarkierer Christmas Sets of 8 small forks bring with them,...
Vacu Vin Glasmarkierer Party People 12er Set
Vacu Vin party people glass markers set of 12 - avoid involuntary exchange funny glasses The Vacu Vin Glass Markers Party People make the party chaos least for some order and avoid searches, inquiries and unnecessary glasses consumption...
Vacu Vin Glasmarkierer Siegel 8er Set
Vacu Vin seal glass markers set of 8 - wine glasses featuring stylishly individually thanks to the multi colored Vacu Vin Glass Markers Classic allows you to parties and events, the glasses of each guest identify individually. To help...
Vacu Vin Flaschenuntersetzer aus Edelstahl
Vacu Vin bottle coaster made ??of stainless steel - fine wines fishing on beautiful tables red rings on the table cloth are not a nice thing. With the Vacu Vin Bottle Coaster Silver schimmmernden protect your table linen and sensitive...